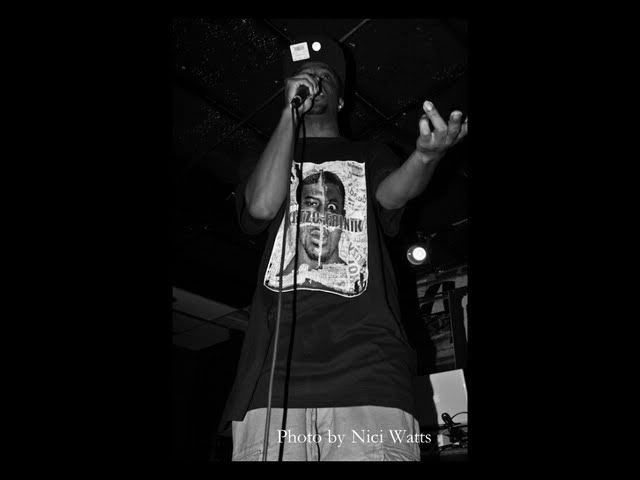 The same blog that brought you Joe Good, Godemis and Big Frame's old, unreleased album under the group name
Qui Lo
, and
DVS Mindz'
super rare
Million Dolla Broke N—–
, now unearths the first album from
Kansas City's most talked about rapper – Ron Ron
.
Released in 2005,
Ironic
is referred to as Ron's "most lyrical" release to date by his manager, who we conducted a brief interview with over the phone yesterday. This is not only Ron Ron's first album, but his only album. All of his other releases,
Charlie Brown, the Die Hard Mixtape, Mr. No It All, Frank-Einstein and Skitzo-Frinik
have all been mixtapes. (
Charlie Brown
and the
Die Hard Mixtape
are the only remaining Ron Ron releases that I have yet to hear).
The reason I'm making this post, and the reason why I bugged Ron's manager so much about digging up the
Ironic
zip file for me, is for two reasons really.
1)
I'm a big fan of Ron Ron's music, and
2)
I know there are a lot of other fans of his in the city who would like to hear this album as well. Ron's manager says that at the time
Ironic
was released, Ron Ron really wasn't trying to get his music "out there," but that he just wanted to make music "for the neighborhood."
Ron's manager also went on to say that
Ironic
was Ron Ron's "only real start to finish baby," and mentioned that
Ironic
was
almost entirely self-produced by Ron himself
. Ron's manager confessed that he couldn't remember off the top of his head who the additional producers were that worked on the album.
As for how this album sounds, there's a heavy Bay-area influence in the beats, in my opinion, Ron's fascination with using rock-influenced beats from time to time still remain, and he even sounds like
Devin The Dude
on a couple of songs. This is purely coincidental, particularly because Ron Ron is opening up for Devin at the
Riot Room in Westport this Friday
. On one track featured on this album Ron even goes for 100 bars straight, disregarding any need for a chorus.
To give you an idea of how early this album was released, as it relates to Ron's burgeoning rap career, the tracks in this zip file aren't even mp3s…they're "Windows Media Audio files".
As for what's next for Ron Ron's ever growing catalogue, you can expect the
Wiz Kidz record with Stik Figa
, which will probably be the most hotly-anticipated hip hop album in KC…whenever it comes out. He's also going to completely remake the
Ironic
album with local producer
M-AD
. There's other projects on the horizon for Ron Ron. All you have to do is dig a little bit to find out what they are.
We hope that this resurrected album will give you an idea of where Ron Ron's music career got kick started, and how he's grown into
the most well-rounded rapper in the city since
. For sure, this is a solid album, considering it was his first release, and it was almost entirely self-produced. But his new shit is kicking this album's ass. One thing about Ron Ron, his music gets better and better and better every time he drops a new disc.
TRUST IN DEMENCHA.
RON RON – IRONIC (2005) *UNEARTHED BY DEMENCHA.COM*
DOWNLOAD HERE:
http://demencha.com/?p=338